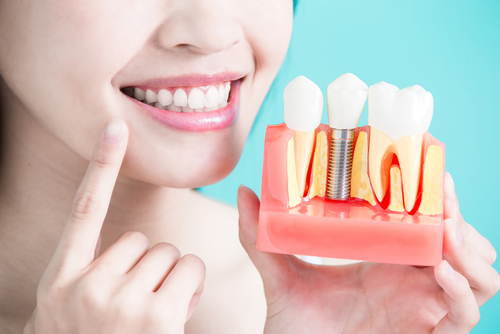 In this blog, we will discuss about some easy ways to keep your dental implants in good shape so that you don't have to deal with the infection in dental implants. People with missing teeth or teeth can have their smiles restored using dental implants.
Implants are long-lasting but that doesn't mean you can be careless with maintenance/aftercare of the implants. Dental hygiene is important in general but more so when it comes to dental implants.
Devshree Dental Clinic is among the reputed and best dental implant services provider in Rewari. You can reach out to us for the safe and effective dental treatments. Call us today to book your appointment!
Dental Implants & Who Needs Them?
Adults who have experienced any sort of tooth decay, mouth trauma or dental infection, etc. that has resulted in tooth loss are recommended for dental implant procedures. Dental implants are one of the options to restore teeth, dentures and dental bridges are other options.
Teenagers (girls above 16 and boys above 18) are suitable for the dental implant procedure. Dental implants protect and support healthy teeth and facial bones and can work effectively for decades.
Dental Implants & Ways To Prevent Infection:
1. Rinsing Regularly To Prevent Dental Implant Infection:
Our mouth can become an optimum place for bacteria and other types of oral infections if dental hygiene is ignored. Brushing, and removing plaque from the teeth is the basic yet most important step.
Once you have gotten your dental implant procedure and the healing period is complete, make sure to take care of your teeth and implant so that bacterial growth can be prevented.
Thoroughly rinsing your mouth is a good way to prevent infection in the healing wounds. You can rinse with mouthwash or use salt water.
2. Don't Skip Dental Hygiene/Routine:
Brushing and flossing are dentist recommended most basic ways to keep your dental health in check by getting rid of any bacterial growth or plaque around your teeth.
Once you have gotten your implants, you will have to follow the gentle brushing technique because of the fresh procedure and soreness of the treated area. However, do not skip brushing your teeth.
3. Regular Dental Checkups And Dental Implants:
Take preventive measures to make sure your dental implants are healing properly and your oral health is on point.
Visit your dentist (implant procedure provider) to consult and get further insight on your progress and what else you should add to your dental care routine.
4. Avoid Food Items That Are Risky For Teeth/Dental Implants:
High-sugar content food items should be avoided as sugary items increase the risk of bacterial growth and dental infection. Moderation is the key, and make sure to rinse right after you have consumed a sugary substance.
Conclusion:
These were the four ways to keep your dental implants in good shape and keep infections and bacterial growth in check. Devshree Dental Clinic is available for the best dentist service in Rewari. Feel Free To Give Us A Call To Book Your Appointment. Stay tuned for the next blog update!