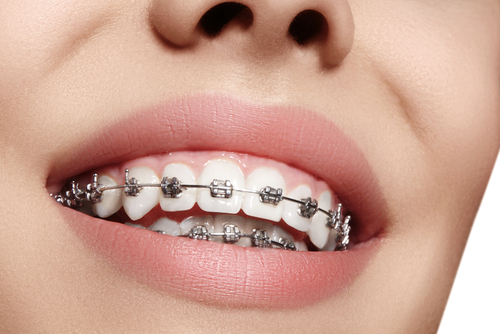 In this blog, we are going to share about everything you need to know about braces. Crooked teeth are corrected using braces and have been effective in restoring the beauty of your smile.
Braces are easy to get done and you can get your teeth fixed at any age. Everyone with teeth alignment issues can correct it from teenagers to adults using dental procedures like braces and aligners.
In this blog, we'll learn about braces so you can get familiar with them and get the needed information before getting your braces treatment.
Devshree Dental Clinic is your certified and leading braces and aligners service provider in Rewari. Call us today to book your appointment!
What Are The Parts Of Braces?
1. Bracket: Brackets are metallic or ceramic attachments that are glued to the teeth. Brackets have slots that are used to keep wires in place.
2. Archwire: This wire connects all the brackets (which are glued to the teeth). It is an important part of braces as it can be used to direct the direction of the teeth in which the dentist wants them to move.
3. Elastics: This is another component that is used to line up teeth in the right form. Elastics are rubber bands that are used to put pressure on the jaw and align the teeth.
4. Molar Band: It is a metal ring with hooks that are placed around the backside of the teeth. This helps in attaching the elastics for teeth alignment.
5. Headgear Tube: It is a round, hollow attachment on your back bands. The inner bow of the headgear is fitted into it.
6. Power Chain: This chain determines the length of elastic bands. Bands connect multiple teeth to pull them in the desired direction.
7. O Ring (Elastic Ligature): These elastic bands come in different colors and are tiny in size. They hold the main wire into the slots of brackets.
8. Steel Ligature Wire: These are pieces of the steel reinforcing bar which is used to move the tooth faster and it works faster than conventional elastic ties.
9. Coil or Spring: These are used when needed to create additional space between two teeth.
10. K Hook: These hooks are made of stainless steel and they are used to attach elastics.
11. Hooks: These are used to attach elastics between the upper and lower jaws.
12. Separator: It is a circle shape small rubber that is placed between molars to create space.
What Are The Types Of Braces?
1. Metal Braces: These are the conventional type of braces and it is also recommended when correcting complex teeth alignment problems. These braces have small brackets and other metal parts.
2. Ceramic Braces: It is a clear or tooth-colored brace that is aesthetically pleasing as it is almost undetectable. The design is similar to metal braces however they are prone to stains or breakage if not being careful.
3. Invisible Braces: Adults and even teens are recommended invisible braces for these are easier to wear publicly without being self-conscious.
4. Lingual Braces: These are attached to the inner side of the teeth, the side that faces the tongue. These are not recommended to everyone as these might not be that efficient in case of severely misaligned teeth.
Conclusion:
This was our short guide on braces and teeth correction. I hope you gained some insight after going through it. Stay tuned for our next update! Devshree Dental Clinic is the best dental service provider in Rewari. You Can Call Us Right Away To Book Your Appointment.