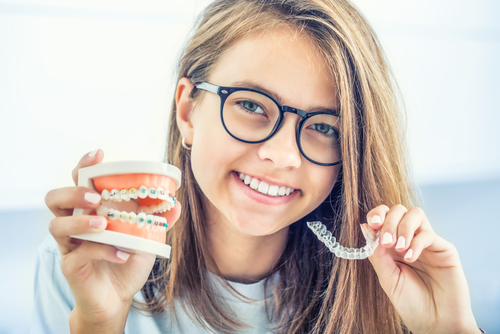 Having perfect teeth is something anyone would love to have but it is completely natural to not have perfectly aligned teeth naturally. You don't have to continue living with misaligned teeth as we have certain dental procedures and treatments that are aimed to fix your teeth.
Braces have always been one of the best solutions for getting your teeth in proper arrangement. Expert orthodontists are capable of fixing your teeth and help you get rid of oral problems, get a beautiful smile and overall alleviate your facial aesthetics.
Devshree Dental Clinic is your top service provider for braces and aligners in Rewari. Find out more about our services by checking out our official website today!
Through this blog, we will discuss the best braces that you can consider for your teeth. Let's get right into it.
Top Most Used Braces For Your Orthodontic Treatment:
Metal Braces:
These are the traditional braces that are made using stainless steel. In this type of braces setting an archwire is used or attached to the steel brackets of braces to fix the teeth by putting the right pressure in the right direction.
Ceramic Braces: Also known as the clear braces as ceramic braces are tooth-colored ceramic brackets. Many adults prefer using these braces as they are less noticeable and hence can be worn during work and other situations.
Lingual Braces: These types of braces are the inside braces. These types of braces have custom designed brackets that can fit properly on the inner part of each tooth. A wire is also used to pull the teeth in the right direction from inside.
Although these braces might take time to fit for you will require every bracket custom made, these braces are as effective as the traditional braces. Adults who are not comfortable wearing braces and showing brackets in public can choose this option.
Invisalign: Lastly, we have Invisalign for correcting teeth alignment and these are among the latest procedures. In this type of braces, you use custom made trays for your teeth. These are comfortable, easy to wear, and don't affect your aesthetics as they are almost invisible.
How To Choose Your Braces?
Your braces choice will certainly depend on what your dentist recommends you but apart from that, you will consider factors such as budget, aesthetics, hygiene as well as a final result when talking about choosing braces for your teeth.
Aesthetics & Braces:
It might not sound like a big deal but it really is. People who are more conscious about their looks in public find it difficult to wear braces that are easily noticeable. Thus, you can always let your dentist know about your likes and dislikes and if you are comfortable with the wired braces or are more comfortable with Invisalign.
Budget & Braces:
Certain braces and treatment options can be on the expensive side while others would be more budget-friendly. Before finalizing the type of braces you want you can let your orthodontist know if you need to consider budget as well.
Best Braces For Adults And Children
Although all the above mentioned braces are perfectly suitable for children as well as adults however adults generally go for Invisalign and ceramic braces. Kids and young adults are recommended traditional metal braces as these are best for correcting teeth alignment, crowding, malocclusion, and misalignment.
For the best braces and aligners treatment in Rewari, you can reach out to Devshree Dental Clinic right away. Check out the official website to know more about our services. Give Us A Call Today To Book Your Appointment.
Summary:
Devshree Dental Clinic is among the top-tier dental clinics present in Rewari and our top services include braces, root canal therapy, dentures, and dental implants. Find out more about our treatment options on our website or You Can Drop An Email and we will reach out to you as soon as possible.