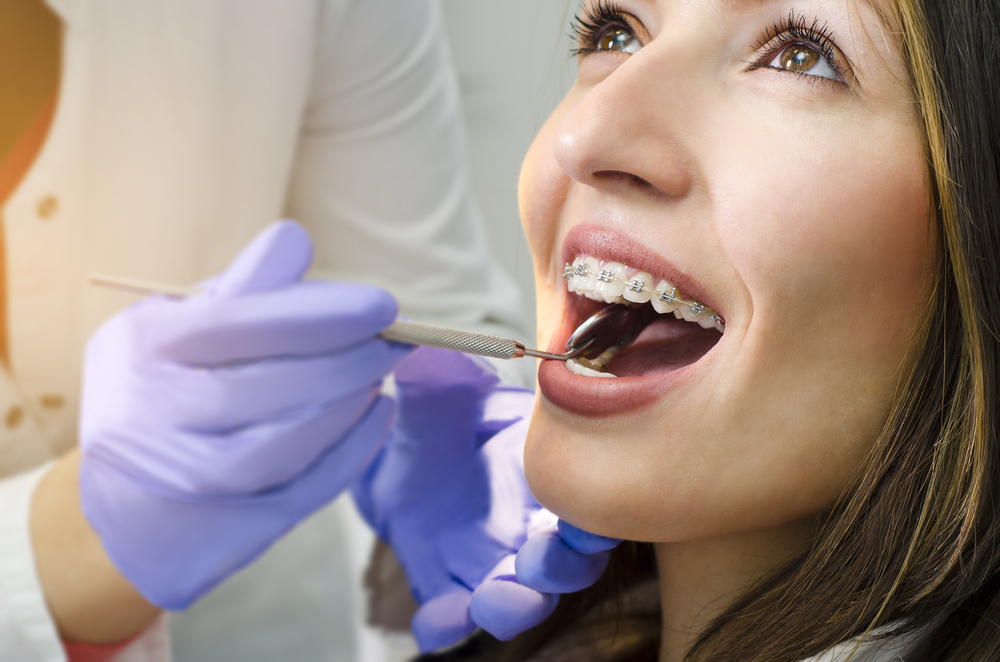 You don't have to shy away from showing your misaligned teeth and continue putting up with the embarrassment. Although, there is nothing bad (aesthetically) to have poorly positioned teeth, however, keeping in mind the dental hygiene, it is very unlikely that poorly aligned teeth will not suffer from any oral issues such as gum problem, cavities etc.
The aim and focus of your orthodontist is mainly to prevent any medical condition related to oral cavity and thus best way to upkeep your oral health is getting your teeth in right order. Devshree Dental Clinic takes hundreds of cases every month where we consult our dental clients and help them with the Best Treatment Options For Braces & Aligners.
Conventional Braces & Clear Aligners:
Let's talk about conventional braces and clear aligners and how they help in setting your teeth in right position.  When working on your teeth, the dentist will make sure to aim for optimizing the positioning as well as bite functioning of the teeth apart from improving the appearance of the overall teeth.
Though braces for kids and children are normal as it is good to get the teeth corrected early in life. However, adult braces and aligners are getting more and more attention and are quite in demand. It is actually good that people do care about their teeth and understand the perks of having a beautiful set of ivories.
Orthodontic treatment can be done in any age and thus kids and adults all can get their teeth realigned without any hassle. Some of the top reasons why you might want to get orthodontic treatment would be:
Teeth with overbite problem or that are set too high
Realignment of the existing teeth
For diastema, the proper distancing between teeth. Thus addressing the dental overlap or gap issues.
For the safety of your teeth to prevent premature erosion
Dental disorders leave your teeth and oral cavity vulnerable to various health concerns and medical complications such as:
Overlapping or overcrowded teeth which are not easy to clean that could leave teeth with cavity issues
Fractures and breakage of teeth due to poorly positioned teeth
Gum conditions such as chronic inflammation
Facing temporomandibular join problems
For orthodontic treatment your dentist will recommend two options, the conventional braces and the new age clear aligners.
Conventional Braces:
It has been decades that conventional braces have been in use to get those crooked teeth in shape. However, with changing science and technology, you can expect conventional braces which are more discreet, better results and more aesthetically pleasing.
Dentist/orthodontist will use porcelain or metal brackets to bond the front of the teeth after which an arch wire will be used to interconnect each bracket. These brackets and wires are tightened time to time to gradually shift the position of the teeth and achieve the desired result.
You will go for regular follow-up sessions (generally every four to five weeks) to get your wire changed and brackets adjusted (if needed) to provide the constant tension on the target teeth and shift them to the proper position.
At Devshree Dental Clinic, our experts will monitor the change in your teeth and how you can get hassle-free braces and aligners assistance in Rewari. Make sure to maintain oral hygiene when you get your braces done.
Clear Aligners:
Though this procedure is suitable for both kids and adults but generally adults are more likely to choose this orthodontic treatment. Clear aligners are easy to wear and these are almost invisible to anyone as they don't have brackets and wires. You can get these to correct your orthodontic cases which are mild to moderate.
Clear aligners are transparent and removable and easy to adjust to. However, it is important to be diligent and disciplined with wearing these aligners. Try wearing it all the time to not compromise the result you wish to achieve. Another perk of getting clear aligners is that oral hygiene is easy to maintain. However, as compared to conventional braces, clear aligners could be a little pricey but with great price comes great benefits and perks.
Conclusion:
For best braces and aligners treatment in Rewari make sure to Give Us a Call. Devshree Dental Clinic offers you one-to-one consultation and best treatments for your dental conditions. Stay tuned to our blog for more information on dental treatments. For quick consultation or booking your appointment you can give us a call right away.