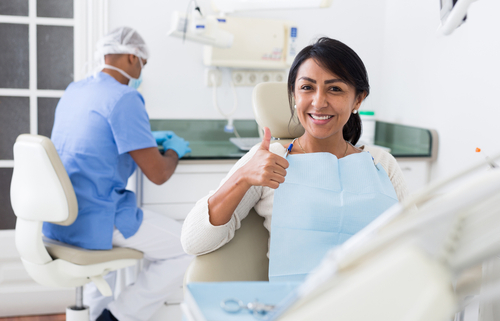 In this blog section, we try to cover as many dental topics as much possible to make sure our readers get valuable and relevant information without much hassle. In this blog, we are discussing dental consultation and kids. Yes! Our little ones also need to get the routine dental visits. However, the question is when is the right time to start their dental visits?
Devshree Dental Clinic is among the leading dental care and dental treatment services in Rewari. You can visit our clinic for general as well as specialized consultation and treatment services.
Kids & Dental Health
Kids generally don't enjoy visits to clinics and hospitals and we understand that it could be a daunting task to get them through a dental session. However, it is important to know that as much as your dental health is important, the same goes for your little ones.
While people believe that it's okay to take their child for a dental visit not until they have turned five or six, however, dentists suggest it is best to start when your child turns one.
Kids can develop tooth decay at an early age and thus it is not advised to wait until they turn six or seven to get their teeth checked. As soon as you get the consultation, the sooner you can repair any damage caused due to tooth decay.
What Should You Expect At Your Child's First Dental Appointment?
Once your baby starts teething, it is time to start their brushing routine. Gentle tooth scrub can be done a few times a day to prevent tooth decay and keep your child's teeth healthy and clean.
Once the baby turns one, it is very likely that the child has grown more teeth and it is the best time to get a dental appointment. For small children, we have a pediatric dentist to check their teeth and overall oral health.
Your child's dental appointment is not just their dental examination but also informative for you as a parent. Little babies and toddlers have little patience thus it is best to get the advice from their dentist on ways to keep your child's teeth clean.
You can get general consultation on how to brush your child's teeth properly, floss their teeth (once kids grow more teeth), how to prevent late night snacking as that can damage your child's teeth, when and how to transition from bottle to cup for consuming water, etc.
What You Should Look For In A Dentist?
You must do the due diligence to make sure you are consulting the right dentist for your child.
Here are some Tips to consider when searching for a suitable Dental Service or Dentist for your Kids:
1. Kids don't do well in a stressful environment. It is important that when you are looking for dental service, check for the clinics where staff and dental practitioners are friendly and calm with kids so that your child feels comfortable during the consultation.
2. You can also look for the reviews and testimonials given by other clients to make sure the dental clinic is worth the price, time, and effort. If you have family or friends who know dental clinics that are recommend-worthy, you can consider those clinics.
3. Another factor to notice when finalizing a dental clinic for your child is whether you are comfortable with their questions and sharing your issues related to dental care pertaining to your child. A relaxed and comfortable communication is what we are looking for here.
Conclusion:
These were some of the key things to know when you are planning for your kid's first ever dental consultation. Devshree Dental Clinic has a friendly and welcoming environment where we interact with parents and address all their dental queries and concerns. You can connect with us over a phone call or You Can Visit Us Directly. On our site, you can fill out the form to book your appointment with us. For the best dentist service in Rewari, you can count on Devshree Dental Clinic.