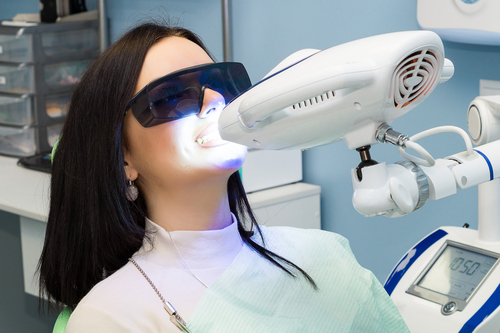 'An aching tooth is better out than in. To lose a rotting member is a gain.' – Richard Baxter
Teeth can lose their shine and natural white color due to several reasons, some of them being poor dental hygiene, metabolic condition, eating disorder, calcium deficiency, and liver disease, etc. No matter what the underlying condition is, teeth discoloration is an added problem to that.
Discolored teeth can cause you to feel insecure about your teeth and smile in general. Laser teeth whitening is one of the procedures that can be used to improve the teeth' condition and bring back the natural white color of teeth.
Devshree Dental Clinic is among the best and top dentist services providers in Rewari. We are just a call away! Book your appointment now.
In this blog, we will answer some of the frequently asked questions by people on laser teeth whitening. So, without further ado let's get right into it.
6 FAQs On Laser Teeth Whitening:
What Is Laser Teeth Whitening?
This is a common dental procedure to whiten the teeth. In this process, a bleaching agent is used on teeth, which is then activated using the laser. This process helps in removing the teeth stains and turning teeth bright and white. It takes approximately an hour for this whitening process.
How Soon Can I See The Results After The Procedure?
It depends on the severity of the stain. However, generally one can see the difference right after the treatment/whitening session. If you have highly stained teeth then it can take a couple of sessions to reach the desired goal.
Is The Laser Teeth Whitening Process Painful?
This is a non-invasive process that doesn't cause any pain. It is, however, common to experience slight sensitivity in gum and teeth; more so when you consume food or drink after the procedure. This sensitivity is temporary and it subsides in a day or two.
Is The Laser Teeth Whitening Procedure Safe?
Since this teeth whitening procedure is administered by expert dental professionals, thus it is safe to get this treatment done on your teeth. When performed by an expert and skilled dentist, the whitening process has the desired result without damaging the teeth' enamel.
What Can One Expect From The Procedure In Terms Result?
The whitening effect or the whitening shade of teeth will definitely vary from person to person depending on the severity of the teeth stain they had before the procedure, teeth condition and genes of the patient can also be the contributing factor behind the type of result you can expect. One can experience two to eight shade lighter results in one or multiple sessions.
How Long Will The Whitening Effect Last?
How long the result of your laser whitening treatment will last is something that depends on a couple of factors such as your food habits (try avoiding food and drinks that can easily stain the teeth), oral hygiene, etc. If you are taking good care of your teeth in general then your whitening result will last from 6 to 12 months. You will have to go through another session to maintain the results.
Conclusion:
It is normal to experience teeth discoloration with age, and it can be due to genetics, poor dental hygiene, or habits such as smoking, etc. The laser teeth whitening procedure is one of the safety procedures to restore the brightness of your teeth. Devshree Dental Clinic is one of the best dentist services in Rewari. Book Your Appointment Today! Call for more information.