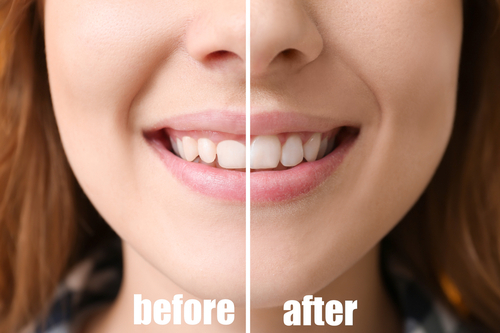 In this blog we'll discuss about gum contouring and whether you should get it done. Stay tuned as we'll reveal three benefits of getting gum contouring.
What is Gum Contouring?
Gum contouring is quite a normal procedure that is done to remodel the gum line that improves your smile. This procedure removes the extra gum tissues from your gum line and that counts as minor oral surgery. Your dentist will use dental anesthesia before operating on the gum tissues.
A contoured gum line when you have excessive gum tissues will give your teeth a healthy appearance and it will boost your confidence. Looking for the best dentist service in Rewari? Devshree Dental Clinic is just a call away!
Gum Contouring & Benefits:
1. Clear Teeth Without Unwanted Gum Tissues:
Loose and extra gums that sit on teeth can lead to gum problems due to easy space for bacterial growth. Gum contouring is used to get rid of extra gum tissues along with smoothening of tooth roots by removing the pocket walls created by extra tissues of gums.
2. Aesthetically Pleasing Smile:
A gummy smile (when you have prominent gums instead of teeth) could be something you don't like to have and if you have those extra gum tissues then gum contouring is for you. This procedure definitely enhances the beauty of your smile.
3. Gum Contouring And Tooth Decay:
Getting your gums fixed will help you not only prevent but also overcome tooth decay that is caused by excessive gum tissues. The risk of tooth decay can be averted by maintaining a well-balanced, healthy diet, and avoiding soda and other sugar rich junk items. Sincerely brush and floss your teeth every day and stay hydrated.
Gum Contouring And Recovery Time:
Gum contouring is a painless and minor surgery with a short recovery time needed. To ensure your downtime after surgery goes normal without any complications, make sure to consult with your dentist. They will suggest you on gentle brushing/flossing; avoiding hard to chew food items, and taking proper rest to speed up the healing process.
Gum Contouring And Permanent Solution:
You don't have to get any other treatment for your excessive gums after the gum contouring surgery. It is a one time and permanent solution for your gummy smile. It is certainly a very good option for those who are not confident about their gummy smile. It is a less time consuming procedure with long-term results.
Gum Contouring And What To Expect During Recovery Time?
Your recovery time after the procedure will be painless. Make sure to follow your after-procedure gum care and the proper diet suggested by your dentist. A contoured gum will improve your smile, will have a consistent gum line, teeth will not look overly short, you will not feel any pain or irritation (that was before due to excess gum tissues rubbing together), and your teeth will have a clean and healthy appearance.
Conclusion:
Gum contouring is a non-invasive procedure with quick recovery. It is performed by your periodontist. A healthy gum line is restored with this procedure and prevents any unwanted gum problems or bacterial issues. Devshree Dental Clinic is a leading dentist service provider from Rewari. Give Us A Call To Book Your Appointment Today!