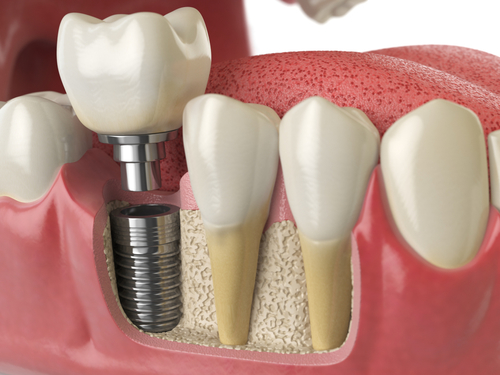 At Devshree Dental Clinic, one question that our dental implant patients ask often is, "Will this dental implant last forever?" So, to clear your doubts regarding this subject we thought it is better to put out a separate blog on this topic.
Firstly, dental implants and the longevity of these treatments will depend on several factors, and keep reading to get more insight on this topic.
For the latest dentist service in Rewari, you can reach out to Devshree Dental Clinic today! We are available to offer you dental consultation along with general and specialized treatment services.
What is a Dental Implant?
Dental implants are the biocompatible metal posts that are surgically placed in the jaw that require the replacement of teeth roots. A customized restoration is then placed on top of this implant. A restoration can be a bridge, dentures, or a crown.
You don't just get a dental implant, it is very important to first examine your health and other factors such as oral health history, lifestyle habits as well as jawbone and gums. Once we have assessed your health we will determine if you are a suitable candidate for a dental implant.
In cases where a patient has a jawbone that lacks the strength needed to support a dental implant, we advise them to get a bone graft done. Bone grafting prevents the failure of a dental implant procedure. Dental implants are going to function similarly to natural teeth.
Dental implants are great as they will prevent jawbone deterioration and facial sagging due to missing teeth.
How Long Will My Dental Implants Last?
When you get dental implants done, on an average this treatment will last for 10 to 15 years. Now, the fun fact here, this treatment can last more than this average time or less than that depending on various factors.
There have been patients who have experienced dental implants that have lasted a lifetime for them. A patient's oral health and dietary habit are among the top factors that can affect the longevity of your dental implants.
A healthy jawbone and gums are more likely to prevent an artificial teeth from any unwanted movement. The dental implant is more likely to fail in case the patient smokes as it can lead to certain complications.
What Are the Ways to Improve the Longevity of Your Dental Implants?
There are various ways to ensure your dental implant lasts for a lifetime and you don't face any complications or treatment failure. It is important to take your oral hygiene seriously and take care of your dental implants as you would do of your natural teeth. For instance,
It is best to not consume/use tobacco
Proper brushing twice a day for two minutes every time
Flossing your teeth daily
Regular dental check-ups
Consuming a balanced diet
Keeping the body hydrated by drinking water
Avoid chewing on very hard food or edible items such as ice.
Avoid sugary items as much as possible. Candies and other sticky food items that can easily cause cavities and other problems.
If you have teeth grinding problem you should wear a nightguard while sleeping.
Conclusion:
Your oral health impacts your overall health in one way or the other. You cannot expect to have a great health without healthy teeth and gums. This was our quick blog on dental implants. We will cover more relevant topics on this topic in the future. Stay tuned to our blog section. For more information on our dental services, You Can Give Us A Call. For the best dentist service in Rewari, you can always reach out to Devshree Dental Clinic.