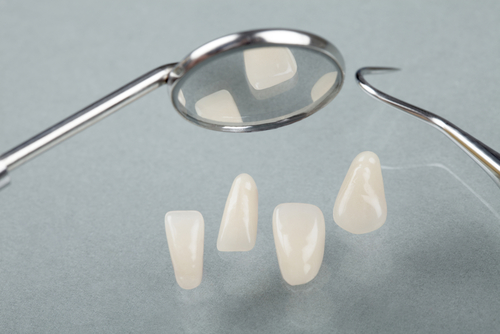 'If you have more cavities that you have teeth, then you've led a 'sweet' life.' – Stanley Victor Paskavich
There are so many ways to improve your smile and thus enhance your overall beauty. Dental procedures for smile correction are something you can consider if you are not looking for invasive treatments. In this blog, we are talking about dental laminates.
Devshree Dental Clinic is among the best dentist service providers in Rewari with the latest tools and expert dental professionals for your dental treatments. You can reach out to us today for general consultation or specialized treatment services.
Are Dental Laminates And Veneers Same?
Although veneers and dental laminates are both non-surgical procedures for your smile treatment, there are certain differences between the two.
Below are some defining differences between veneers and dental laminates:
Dental laminates are thinner compared to veneers.
Due to the less thickness of dental laminates, these are more transparent in appearance in comparison to veneers.
Dental laminate shells are developed by dental labs where layers of ultra-thin ceramics are stacked and then compressed to form a durable laminate shell for the tooth which has a thickness of 0.2 mm.
What Are The Four Scenarios When Dental Laminates Work Best?
1. Dental Laminates & Small Fractures/Chips:
For cases where the tooth has a surface fracture or small chip can be covered using dental laminates. This process is effective in strengthening the tooth structure and prevent from further damage.
In case of a larger fracture or chipping issue, your dentist can recommend a veneer procedure in which a large portion of tooth enamel is removed.
2. Dental Laminates & Teeth Gap:
Small gaps between teeth can be easily covered using cosmetic dental treatment. Dental laminates are an effective procedure to get well proportioned smile without any gaps.
3. Dental Laminates & Crooked Tooth:
Your teeth are healthy when you have the right bite and properly aligned teeth. It is normal to not have a proper bite or misaligned teeth.
Dental laminates can help in getting rid of the minor imperfections. You can consult your dentist and ask for the right procedure for your smile treatment.
4. Dental Laminates & Discoloration:
Enamel erosion is possible and that can lead to teeth discoloration (causing teeth to have a yellowish appearance).
There are certain medications and fluoride that can have lasting stains on teeth and these types of stains are not easy to cover using teeth whitening.
Dental laminates and veneers are effective in covering the discoloration.
Conclusion:
Devshree Dental Clinic is your friendly-and-affordable dentist service provider in Rewari where you get premium treatments and consultation for your dental problems. Visit Today or Give Us A Call For Booking A Session. This was our blog on dental laminations and for more such interesting blogs stay tuned to our website. You can check the service section if you are curious about our top treatment programs and services.