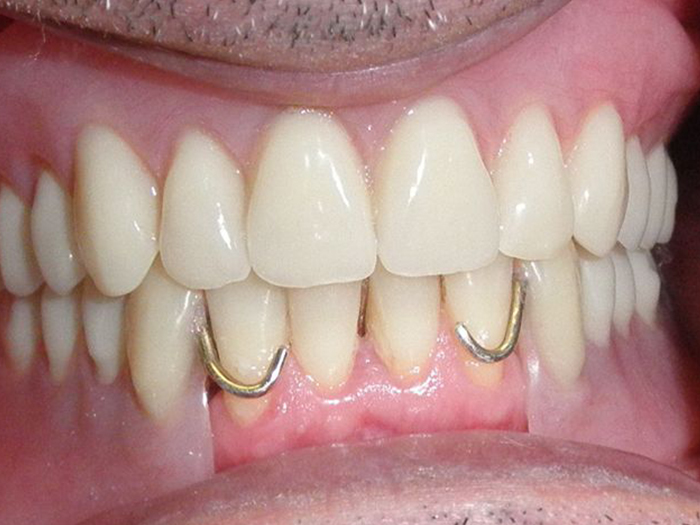 Dentures are commonly known as the artificial teeth and these removal appliances can be used as a replacement for missing teeth and tissues. These aid in normal functioning of human mouth. One might need one of the two types, complete denture or partial denture. As the name suggests, partial is required when only a few of teeth are missing so to fill for the missing places, we get you the custom made dentures. In case of complete dentures the client is provided with custom made set of teeth and gum line. Complete dentures are conventional ones which can be removed during night for cleaning purpose.
What are the types of dentures?
Dentures are made using acrylic resin as well as porcelain. Although porcelain dentures easily match with the teeth and give a natural look, you can break your dentures if dropped and that's why it is suggested to get the complete dentures instead of partial ones. Acrylic dentures are light in weight compared to the porcelain ones and also light in weight. Even the jaw movement is comfortable with these dentures and come in right fitting.
Process used to place dentures
First step is the dentist taking your jaw impression. These are taken to assess your teeth arrangement, if there are any gaps and spaces.
Second step would be to prepare a wax model to check for the fitting.
Third step includes finalized denture made out of wax.
Next step would be ask patient to try the dentures and see if it fits perfectly.
Taking care of your dentures
It is easy to take care of your dentures and as these are removable and artificial dental products, it is essential to be careful when handling them. Below are some points to help you on keeping your dentures in the perfect shape and condition.
Keep them clean: Needless to say but yes, the most important step towards denture care is keeping it clean. Use non-abrasive brush to clean your dentures. You should clean your dentures once a day at least. Even if these are artificial item, it is possible to suffer from plaque and bacterial build up and that will harm your teeth and gums, thus better keep your dentures and teeth clean. You can remove your dentures after every meal and get it cleaned using warm water.
Follow the overnight protection process for your dentures: You must soak your dentures in water or dentist recommended denture solution. Rinse your dentures with clean water before use in the morning to get rid of the chemicals present in the solution you used to soak overnight.
Keep an eye on your dentures and how they are getting with time: Besides keeping your dentures clean, it is important to assess whether they fit well and are in right condition. If you find your dentures getting loose, you can visit your dentist. Wearing ill-fitted dentures will not serve the purpose and you risk irritating your gums/teeth and suffering from infections.
What are the do's and don'ts when wearing dentures:
Do not forget to soak your dentures every night in the solution provided on clean water.
Make sure you do rinse your dentures before you put them on every morning.
Use soft bristle brush to brush your teeth.
Keep your gums, tongue and mouth clean as well as overall hygiene counts when talking about clean teeth or dentures.
When dentures on, do not try eating or biting on hard food items.
Avoid being abrasive when brushing your teeth.
When wearing dentures, avoid using a toothpick or sharp item to poke your teeth.
Be careful when handling dentures and do not drop them as they might break.
Do not avoid checking with your dentist in case your dentures get loose.